Celebrate Island Women & Non-Binary Folk 2021
Join us on Saturday, 23 October 2021 for a wonderful celebration of music and song!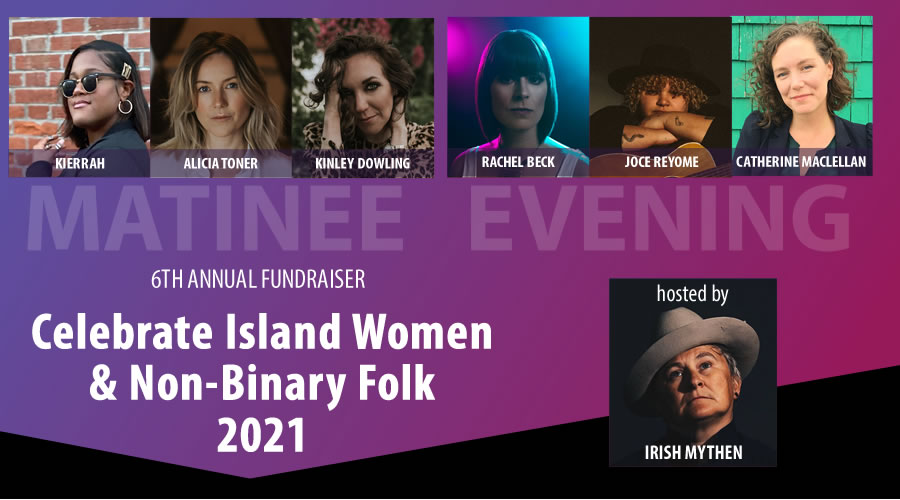 The Board of Directors of Women's Network PEI is pleased to announce its sixth annual fundraising event. The event will take place at the Trailside Music Hall in Charlottetown on Saturday, October 23rd, 2021 and will feature two separate affairs — a matinee at 1 p.m. and an evening show at 8 p.m.
Being able to gather safely again is a joy and we are beyond thrilled to announce our annual fundraiser!
Women's Network PEI, a not-for-profit organization incorporated in 1984, is a voice for Island women and non-binary folk, working to improve gender equality in all areas of people's lives. However, funding sources are project-based and sometimes inconsistent. To ensure uninterrupted year-round operations and programming, the Board of Directors has been organizing exciting annual fundraising events for the Island community.
This year, we are so grateful for the Trailside Music Hall to be our venue and major sponsor. Returning for both the matinee and the evening show as the emcee is the popular PEI-based globetrotting musician and a great friend of the organization Irish Mythen.
The matinee show has a stellar lineup of gifted performers Kierrah, Alicia Toner and Kinley Dowling. The evening performance features the amazing talents of Rachel Beck, Joce Reyome and Catherine MacLellan.
Tickets are $50 plus fees.
For more information about the event or to become a sponsor, please contact us.
Get the Tickets!
Buy tickets for the Evening Show
More Information