Women's Network PEI: Past, Present, Future
From Common Ground, March 2020 - special issue celebrating 35th Anniversary of WNPEI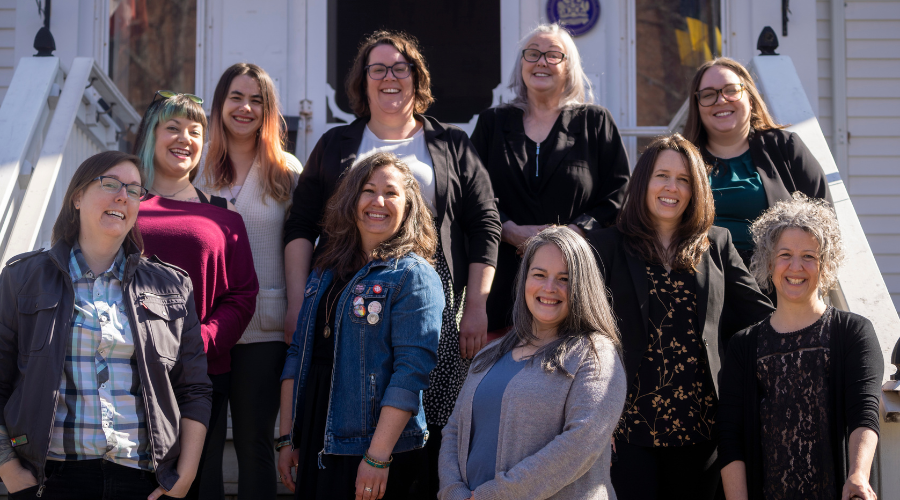 What we've done in the past
Women's Network PEI has survived and thrived for thirty-five years. Over these three and a half decades, we have had the privilege of working in the community and advocating for changes related to equity and inclusion. Many feminist organizations have not survived for as long as the Women's Network. The biggest reason why we have been able to remain open is the creativity and loyalty of our supporters. Many people, and not only women, have supported and engaged with Women's Network for over a generation.
Since the Network's formation, our projects and activities have been changing as the landscape and the issues on which we work shift. While the methods of operation have been transforming, the values and the mission of the organization have not. We base our work on an Intersectional Feminist Analysis and advocate for positive changes in our society—especially those that reduce inequalities amongst genders and traditionally marginalized communities.
What we are doing now
The capacity of Women's Network PEI has ebbed and flowed over the years. Currently, we are experiencing a period of growth after two decades of austerity. This growth is exciting and allows us to expand the reach of our work, deepen our analysis and grow the number of people working in the sector in PEI.
Women's Network PEI continues to work collaboratively with a broad group of stakeholders and partners.
Grassroots partnerships are key to creating the social changes we envision. We are a member of the PEI Coalition for Women in Government Steering Committee, Justice Options for Women Steering Committee. We are a member of the Working Group for a Livable Income and have a representative on the Board of Directors of the Community Sector Network of PEI.
In addition to working collaboratively with numerous coalitions and committees, we partner with organizations and stakeholders in all projects and programs we implement. We work closely with the PEI Advisory Council on the Status of Women, East Prince Women's Information Centre, PEERS Alliance, Women Building PEI, Family Violence Prevention Services, PEI Rape and Sexual Assault Centre, and many more important groups that share our values.
What needs to be done in the future
We have seen a great deal of change over the past 35 years, but many of the issues remain the same and there is still a great deal of work to be done to create equity in our communities, homes and society. At this time, there is an increased awareness of social justice issues, and that helps us advance our endeavour and push for changes. This includes working towards universal childcare, universal basic income, comprehensive sexual health education in all schools in PEI, modernized child support system, increased support for survivors of gender-based and sexualized violence as well as increased investment in prevention programs that tackle toxic gender norms, healthy relationships, consent and many other foundational topics. We continue to advocate for these changes and support grassroots mobilization to effect meaningful change.